Recruitment exam in Private sector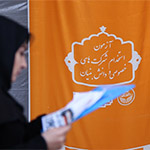 The interview stage of Recruitment exam in Private sector will be held in the presence of volunteers and representatives of the recruiting companies at the University of Tehran. The system Spad was able to to be present in
line with job creation and recruitment as an assessor in this exam .

In a conversation with a journalist from the science and academy group of Fars News Agency,Mohammad Hossein Ghomari, secretary of the policy-making council , pointed to the second stage ofsecond Recruitment exam in Private sector in 7 regions of the country in Tabriz, Ahvaz, Isfahan, Kerman, Shiraz, Mashhad and Hamedan provinces; On Thursday, 16th of March, and said that the applicants will be interviewed in Tehran university, who are from Qom, Mazandaran, Alborz, Semnan, Qazvin, Gilan and Golestan .

He added: "This year, 100 thousand applicants registered in the exam , after the online test in December 2017, were invited from the admissions in each district to be evaluated by the representatives of the companies by attending the interview stage and presenting the identity documents.
According to this report, the first Recruitment exam in Private sector was held in 2017 with support of the Culture Headquarters of Knowledge base Science, Technology and Economics of Vice Presidency for Science and Technology, Labour and Social Security Institute , Social welfare payments and work, The Islamic Republic of Iranian Broadcasting and other related institutions which nearly 60,000 applicants attended in 266 job titles, so 8,200 participants get hired in private and knowledge based companies throughout the country.